In the southern hemisphere long summer holidays are on the horizon while in the northern hemisphere winter is closing in and long nights spent indoors are looming.  Both offer great opportunities for encouraging our students to read, read, read. 

The single most important predictor of academic success is the amount of time  students spent reading, and this is a more accurate indicator than economic or social status. Time spent reading was highly correlated to success in math and science.  The keys to success lie in teaching students how to read and then have them read as much as they can.
Program for International Student Assessment, 2003
So how can we as educators encourage parents to encourage their children to delve into the world of words, journey through their imaginations and explore what is offered in the pages of a book?
Ask a parent what they want their child to achieve from their school experience and overwhelmingly they will say that they want them to be confident, competent, independent readers. How can we harness parent power to be our partners in this process?
What can we do together to show our youngsters that reading for pleasure is valuable, valid and valued?
How can we work together to help them build and maintain a healthy reading habit to take with them into adulthood?
How can we work together to  support their growth as readers of a variety of topics and formats for a variety of purposes?
Let me state from the start that I am totally opposed to the concept of mandatory reading programs where students must read a particular book, a certain number of books, or any sort of requirement that they are obligated to complete, must report on, be assessed on or in any way be held accountable for having read during their own time. One of the saddest things is that in her book Reading in the Wild Donalyn Miller reports that by Year 6 most students perceive reading to be about being a means to an academic end – a school-based activity, pleasing a teacher, completing an assignment, getting a better grade, scoring points or a positive comment, something imposed rather than chosen.  What are the messages we are giving our students about reading if this is their opinion after just a handful of years of being able to read for themselves?  Where have the magic and mystery gone?
While parents want their children to be successful readers, they often do not know how to support this at home and so it is our job as professionals for whom reading is part of our mandate to support them in whatever way we can. Although our primary role is not one of reading instructor -we must become the guide on the side not the sage on the stage – nevertheless it is to the library that parents and teachers look for leadership. We must become the pivot on which the home/school reading relationship balances.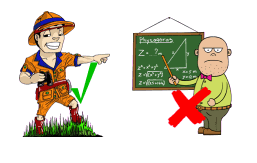 Communication between the library and home is the most critical factor in supporting our students' reading at home. Establish a library newsletter (print or online); a dedicated Facebook (or similar page);  a tweet, a blogpost, emails – whatever medium that your parent community uses frequently for school-home communication – and make its maintenance a dedicated regular part of your professional practice.
There is an abundance of research available about the importance of both reading aloud to children and demonstrating that reading is a valid, valued and valuable activity.  It is our job to disseminate this sort of research to parents, to provide the evidence that time spent reading for pleasure is a valuable investment rather than a waste of time but it should not be done as a series of links to papers written for academics because even we, as the target audience for such writing, don't read them.  As part of our professional learning, maybe even an identified goal for professional appraisal, we need to locate, read, interpret and share what we learn in a way that is accessible to parents.  Consider creating an infographic that contains succinct information, has visual appeal and links to the original research where appropriate so those so inclined can read further. This one from the Australian Kids & Family Reading Report demonstrating the predictors of successful readers is a powerful example.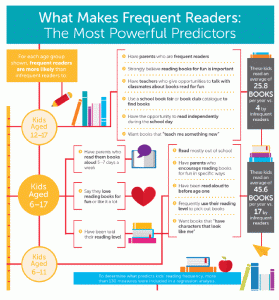 Suggest titles about the importance of reading to and with their children that parents can read for themselves such as 
Reading Magic: how your child can learn to read before school—and other read-aloud miracles, Mem Fox (Pan Macmillan)
The Reading Bug—and how you can help your child to catch it Paul Jennings (Penguin)
Rocket your Child into Reading Jackie French (Angus & Robertson)
The ageless rewards of reading aloud– Margaret Robson Kett
The Read-Aloud Handbook by Jim Trelease (Penguin)
Provide links to where they can be purchased so parents can acquire them while they are thinking about them.
Direct parents of younger students to pages like Reading with Your Child (which has a Creative Commons licence which allows you to adapt it to a format which suits your needs)  and The Art of Reading Aloud, both of which have practical tips for sharing stories with their children at home.
If your students are slightly older and parents are asking why they should continue to read aloud even when the child is an independent reader, share this blog post  which explains why this teacher is reading 180 picture books to her Yr 7s and 8s over the school year and the impact it is already having after just three weeks, and The Reading Promise  which is the story of the bond formed between a father and daughter through reading aloud.  
Or this talk which demonstrates the magic of read aloud and reminds us all why reading aloud is so essential- at school and at home. It is for parents and teachers who want to teach comprehension and connect with kids in powerful ways.

Imagine the power of the advocacy for the library and the status of the profession that will ensue if parents regularly receive such important and valuable information.
With the gift-giving season almost upon us and 30% of all Australian book sales being children's books; UK sales up 7%  and similar growth in the USA, parents and grandparents will also appreciate knowing about what's suitable for their offspring for their Santa Sacks.  By being abreast of new releases, what's trending in your library at the moment, books that are about to be released as movies, and current popular genres, as teacher librarians we can keep them informed of how they might choose wisely and spend their money well.  A regular segment in your communications highlighting titles likely to be of interest will be well-received especially if you include a synopsis (often available from the publisher's webpage about the book) and a guide age range.  A link to a review or even to trusted blogs where children's books are reviewed will be appreciated too for those who want to investigate further.  Don't ignore the long tail – those who have decided reading is not for them – and be sure to share a range of genres, subjects, authors, series and especially non fiction and ready-reference titles because it just might be the hook that gets the reluctant reader on the line.  Know your readers and share suggestions and links to sites that meet their needs in some way.
The Australian Kids & Family Reading Report investigated what it was that was wanted in reading materials…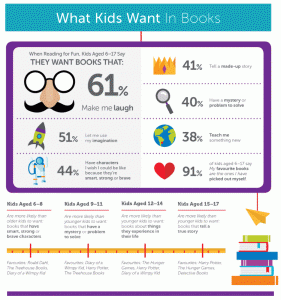 Because it is unlikely that parents will be able to provide everything that their child desires in reading materials. investigate if it is possible for your library to make bulk, long-term loans available over the holiday period. If that's not possible facilitate membership of the local branch of your public library by providing details of what is required and even membership forms.  Emphasise that this is a FREE service as this is not always understood by those new to the country.  Suggest that parents host book play dates or even start a neighbourhood book club. Investigate funding sources or grants that might enable you to give every student the gift of their own book to read. 
Ensure your library's webpage has links to sites of the "If you like… then try…" variety so students can access suggestions for their next read easily.
For those whose preference is ebooks demonstrate how they can access the school's collection of these from home or direct them to sites such as WeGiveBooks; Just Books Read Aloud or specific YouTube clips that allow them to hear a book read to them or to sites like the International Children's Digital Library where they can read for themselves.
For those whose reading is currently limited to reading instructions for games or making things, offer links to safe, appropriate sites such as Scratch and Minecraft or to author and series sites such as Brotherband, Pottermore or Peter Rabbit where they might be encouraged to move from screen to print.
If your school requires a formal leisure time program or parents request such a guide, construct a challenge such as Dr Booklove's Reading Challenges which are not only open-ended so the reader still has a significant say in their choice of reading material, but also provide suggestions for parents wanting to extend their child's reading repertoire. If there HAS to be some form of accountability for what has been read then consider the sorts of tasks suggested through The First Book Club. They might like to make a start on any formal reading challenges such as the Premier's Reading Challenges which operate in Australian states and territories, particularly if the titles are linked to holdings in the public library. Create a seasonally-appropriate display where students can share what they have read and rate it for others to consider putting it on their to-read list.
There are as many ways for schools and homes to connect via reading as there are school, homes, students and parents. Perhaps you could share your ideas in the comments so others can make this critical partnership even stronger. Whatever you do, make it bring back the love of reading for its own sake so students don't just view it as Miller's students did.
Above all, just let them read.