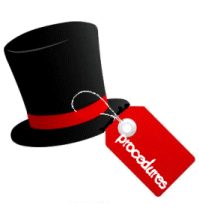 This post is going to be a work-in-progress.
As I write it, you can follow my journey as a qualified teacher librarian moving into an established library in a primary school at very short notice and find out what I wished I had asked during the short hand-over period but didn't because I assumed there would be a Procedures Manual available. Because even though I have a wide range of experience and expertise and knew what had to be done, I didn't know how it was done in this particular context.
While there are practices that are common to all libraries, each school and education system has its own requirements that need to be followed and these need to be set out somewhere because you cannot make the assumption that your successor will necessarily be from the same school district as you and therefore know the drill. There are some things you don't learn at library school but you need to know.  
So join me on my journey as I discover what I don't know and need to know as I write a manual for the person who will inevitably follow in my footsteps. 
Access to the Library Management System
Providing comprehensive training in the use of the LMS used by the school/district is probably beyond the brief of the incumbent TL particularly if there is a short turnover period, but there needs to be information about…
what the LMS is and where training can be obtained, including any manuals, help desks, networks and other support systems that are in place in the short term should they be needed

how to access it via username and password and ensuring that the entry level assigned to you is at administrator level so you can access all its functions

an overview of the most commonly used modules with brief instructions on how these are used on the surface level so the everyday functions of the library can continue without interruption for the clients such as those governing circulation , adding new borrowers and accessioning new items.
Passwords
While it is clearly acknowledged that usernames and passwords should not be shared. there are occasions where a school as an entity has a login.  These include access to databases, online newspapers and magazines, library support systems such as cataloguing services, vendor accounts and so forth.  So these details need to be made available.  
Documentation
If there is existing documentation such as policies available then state where this is.  If it is online provide the pathway to it; if it is in print format then state where it can be found.  If it is online then it needs to be in a shared folder, not a personal one but having seen what can be done to "paperwork" stored online when uninformed  people decide it is time to clean up shared folders or systems crash and so forth, in my opinion it is worthwhile having both a paper copy of critical documents as well as a back-up digital source.
Essential documentation includes
a general library policy stating the purpose and place of the library within the school

the Circulation Policy

other policies that govern the library and its services 
circulation
As this is a primary function of the library explicit details need to be provided including
who may borrow

who may undertake circulation – Tl, teacher, students, self-circulation

how to access the circulation module of the LMS including any username or password

the steps involved in lending, returning, renewing and reserving a resource

if ebooks are available, instructions about how these are accessed and downloaded including usernames and passwords if applicable

if password-protected online resources are available, instructions about how these are accessed and downloaded including usernames and passwords if applicable

authority to override any restrictions placed on borrowers or resources

borrower loan categories, resource types and limits, lending periods and renewals for each

the generation of borrower barcodes and the maintenance of these

availability of class loans and the authority to borrow for these

accessing loan histories

master due date for returns prior to stocktake and instructions for setting this and other critical dates

any other limits or restrictions

treatment of overdue resources including the imposition and collection of fines

patron responsibilities for lost or damaged resources

how new borrowers are added

collection of statistics

interlibrary loan procedures
Include screenshots where applicable for easier explanation
Acquisition
Acquisition procedures must be clearly stated so that procedures can be followed in alignment with school/district requirements.  Information should include
budget preparation, submission and allocation

the timeframe for purchasing

purchasing procedures such as

the use of purchase orders and responsibility for placing these

the need for a supervisor to approve purchases

the use of school accounts and/or credit cards

online purchasing procedures

whose responsibility it is to ensure a vendor is paid

the reconciliation of the budget with expenditure to ensure limits are adhered to

criteria for selecting vendors including 

quality and reliability of service

preview practices and returns policies

value for money

payment options,

delivery costs

speed of delivery

preferred vendors who meet the criteria including

the use of those mandated by the school/district

the use of local vendors

specialist vendors

online vendors

the ability/restrictions applying to the TL making on-the-spot purchases including reimbursement

review of vendors for adherence to the selection criteria

the use of free services versus paid or subscription including statements about the need for the resource to adhere to the selection criteria for all resources, particularly considering

ownership of the resource

copyright compliance

advertising and offsite links

the outsourcing of collection development such as a service which supplies pre-selected titles and the criteria to be considered such as 

cost comparisons

previewing of titles for suitability

the ability to return unwanted items

the outsourcing of the processing of resources so they are shelf-ready

donations
To be continued…