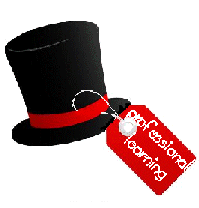 At the core of our mandate as teacher librarians is enabling our students to become lifelong learners.
Through teaching them about the information literacy process we give them a scaffold they can use in any area that allows them to know how to find out what they want or need to know whether it's solving a complex mathematical problem or learning how to start a motor mower. As teacher librarians, we pride ourselves on being lifelong learners – but are we?
How many of us walk across the stage at graduation, accept that piece of paper that states we are now qualified to teach in this specialist area, and think, "That's it.  No more study for me"? Or believe that the only way to grow our learning is through TL-specific courses and conferences? Or look at the requirements for progressing our careers and think that they are all focused on the sphere of the classroom-based teacher and therefore irrelevant?  From the messages I read on the various TL networks I belong to, it would seem that all too often this is the case.
Over the last few years, education in Australia  has changed significantly with the establishment of AITSL – Australian Institute for Teaching and School Leadership – and all teachers are now required to be formally accredited and to log a minimum of 20 hours professional learning each year (100 hours over five years in NSW).  This is because AITSL believes that a great education system is based on its teachers, that the best educators are the best learners and
the best systems make sure that teachers and school leaders can become great as they progress through their profession because people naturally want to grow, develop, and be successful
And for this to be achieved there need to be opportunities and commitment for learning with diverse forms of support that meet the needs, abilities and preferences of the teachers.  In other words, we do for ourselves that which we do for our students. 
Most education jurisdictions now require the annual logging and formal evaluation of professional learning based on a formal professional learning plan that has stated personal and corporate goals that identify the why, when, where and how of achievement.
For some reason, this seems to pose problems for many TLs who can't seem to move themselves beyond TL-focused professional learning and nebulous statements such as having children loving reading (which cannot be measured) or improving circulation stats (which prove nothing beyond the number of times a resource is checked out).  Goals need to be S.M.A.R.T – specific, measurable, achievable, relevant and timely – and the best way to formulate is to consult any formal documentation you can such as the professional standards and the Standards of Professional Excellence for Teacher Librarians and identify the areas where you personally need to improve your knowledge, practice and/or commitment.  For Australian TLs, ALIA Schools Group have mapped the AITSL standards to TL professional practice in Teacher Librarian Practice for the Australian Professional Standards for Teachers
Examine your library's vision statement, mission statement and strategic plan to identify what you want the library to be like in three years and from that identify what professional learning you need to be able to get it there.   If it is not readily available then approach your professional network to see if there is a demand for it and whether they can supply it.  Don't limit yourself to face-to-face delivery at conferences and meetings but look for webinars and other online opportunities, reading books and articles and so forth.
Even if you have been in the position for many years there is always something new to learn but it may be worthwhile to stop, draw breath, and reflect on what you believe and value and develop manifestos to encapsulate this to help you draw together all you have learned and achieved already and provide a benchmark from which to go forward.  Such an exercise will ensure your plans are true to your beliefs, will help you take them to a higher level and ensure you are invested in the outcomes.  Your plan will be more than a tick-a-box-for-authority document.
If a plan is to be achieved successfully it cannot be overwhelming so three goals relating to the domains of professional knowledge, professional practice and professional commitment should be sufficient but carefully chosen. Ask yourself…
How will achieving this goal contribute to

my personal professional growth?

the design and delivery of the curriculum for teachers and students?

the achievement of the library's vision and mission statements and strategic plan?

the school's plan for progress?

the perception of the role of the TL within this learning community?
Explicitly identify the elements for each goal so success is even more likely.  So a PLP could look like 
PROFESSIONAL KNOWLEDGE
GOAL
PURPOSE
STANDARDS ADDRESSED
RELATIONSHIP TO SCHOOL PRIORITIES
Strategy
Actions
Timeframe
Resources
Evidence of Achievement

Identify each strategy to be undertaken to achieve the goal 

What you need to do to satisfy the strategy 

Short.medium.long term

human, financial, physical, time 

Performance indicators

Include milestones for long term goals  

PROFESSIONAL PRACTICE
GOAL
PURPOSE
STANDARDS ADDRESSED
RELATIONSHIP TO SCHOOL PRIORITIES
Strategy
Actions
Timeframe
Resources
Evidence of Achievement
PROFESSIONAL COMMITMENT
GOAL
PURPOSE
STANDARDS ADDRESSED
RELATIONSHIP TO SCHOOL PRIORITIES
Strategy
Actions
Timeframe
Resources
Evidence of Achievement
By explicitly articulating the goal, the reason you are focusing on it, and the professional standard it is addressing you are demonstrating your understanding of your need for professional growth and your commitment to it. You are showing that you are taking the process seriously and professionally and not only does this underline the TL's role in the teaching and learning process but it is more likely to get you the resources – human, financial, physical and time – you need to achieve it. Even if you are required to use a common pro forma, knowing why you have chosen a particular goal and so forth can be added as an extra and addressed in your formal conversation with your line manager. 
In her presentation Revisioning the School Library Program Anne Weaver states, "Teacher librarians must provide cutting edge library programs, using evidence based practice, that focus on goals directly connected to school leadership priorities…" She argues that if we do not do deliver programs that keep the school leadership satisfied that their investment in our salaries is justified then we put our positions at risk. 
In its publication Global trends in professional learning and performance & development AITSL examined the features of innovative professional learning and performance & development…
From: Global trends in professional learning and performance & development
Their analysis showed that while there is a trend for individuals undertaking professional learning that is based online, collaborative, self-directed and informal and that this has value for the individual participant, it is not the best way for the organisation to leverage the results and grow as a whole.  The most effective combinations for both the individual and the organisation were opportunities that were
individual – participants take part alone

self-directed – participants choose the focus, pace and outcomes…and monitor and evaluate their own progress and achievement

personalised – learning focuses on the needs of the participant

situated – learning is within and geared to the goals of the organisation

offered – opportunities are made available to the participants

incentivised – learning is highly valued by the organisation and participants are given incentives to take part
If one of the purposes of the professional learning is to build the knowledge capital within the school, then specialist teachers like TLs need to be part of the big picture. Sometimes it is difficult to see how matches can be made between the specialist role and the school generally.  How do school goals about a greater focus on STEM subjects (science, technology, engineering and mathematics) fit with the TL role that is traditionally associated with English and possibly History?
Such an apparent 'mis-match' just needs some new thinking, the putting on of a new hat and some homework using that information literacy scaffold.  
Ask yourself…

How can I view this goal with a TL lens? What leadership and/or support can I give teachers and students? What resources are required?

What do I already know, do, and have that can provide that support or offer leadership?

What do I, as an individual need to learn or do so I can provide what is required to the school as a whole?

How can I shape that learning into a personal goal using both the professional standards and the Standards of Professional Excellence for Teacher Librarians?

Where can I get the learning/training that I need to achieve that goal and deliver what is expected? What resources will I need to access it?

How can I demonstrate my learning as an individual and its contribution to the school's growth?

How can I build on what I have learned to strengthen the school's position in this area and to take it even further forward?

Develop a detailed plan to share with your school's executive which not only demonstrates how your professional learning is in alignment with theirs but will also show that the TL's role is integral to their success.

Put the plan into practice, document it, seek evidence that it is having an impact and share this as part of your formal PL discussions with your executive.
While the focus of the professional learning in a school can be driven from the top-down and for many, remains a passive process of attendance, listening and note-taking, by taking the opportunity to make it a personal action plan that we are committed to, it can have meaning and momentum that really contributes to the big picture.  
If we are to encourage and enable lifelong learning, then we must be lifelong learners ourselves. Putting on our professional learning hat and ensuring it is a snug fit is one way of doing that.